TEACHERS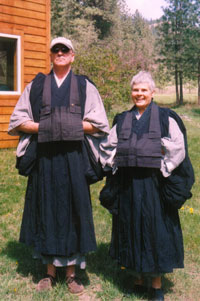 Tony Patchell, M.A., MFT, is a Zen priest and Dharma heir in the Suzuki-roshi lineage: he trained at the San Francisco Zen Center & has been practicing zazen since 1970. He came to the San Francisco Zen Center in 1970 and lived and worked at Tassajara, Zen Center's mountain monastery, Green Gulch Farm in Marin County, and the San Francisco City Center, holding a variety of jobs in the organization and its outlying businesses.

Tony, along with Cynthia Kear & Sarita Tamayo-Morago, offer dokusan upon request. This is an opportunity to meet privately with either teacher for a one-on-one discussion of meditation practice and the integration of one's practice into daily life situations. Tony's writings have appeared in the Buddhist periodical, BuddhaDharma and in the collection, Not Turning Away.
---

Tony Patchell

Background of Tony Patchell

Before he moved to the Russian River area in 2002, Tony worked for the San Francisco Public Health Department as a "street therapist," counseling homeless people with psychological problems and guiding them to any available resources. Tony is legendary for the twelve years he spent on the street, ministering to the homeless, mentally ill, and to those with HIV, in a job for which the "burnout" rate is usually three years. For his response to the "cries of the world," Tony, in 2003, was the first recipient of the Bodhisattva award from the San Francisco Zen Center, honoring members of the community who have made significant efforts to ease the suffering of other people. Tony's writings have appeared in the Buddhist periodical, BuddhaDharma and in the recently published collection, Not Turning Away.

---

Sarita Tamayo-Moraga

Background of Sarita Tamayo-Moraga

Sarita Tamayo-Moraga, Ph.D. is a Zen priest and Dharma heir in the Suzuki-roshi lineage, trained at Russian River Zendo. She has been practicing meditation since 1999. She began sitting at the San Francisco Zen Center in 1999 and became Darlene Cohen's student in May of 1999.

Right after beginning sitting at the San Francisco Zen Center in 1999, Sarita was debilitated by a chronic repetitive strain injury. This life-changing injury led her to connect with Darlene's emphasis on chronic illness as a way to penetrate suffering. Sarita then became Darlene's student and continued to work with Darlene, until her death, around the transformation of suffering in the body and through the body with zazen as the primary focal point. Sarita's own primary teaching centers around kshanti paramita, or the perfection of patience/forbearance. Russian River Zendo is her home temple.

In addition to her meditation training, Sarita teaches at Santa Clara University where her emphasis is on non-religious approaches to the study of religion and on comparative mysticism, especially Zen and Catholicism. At Santa Clara University, she co-leads a weekly sitting group (during the academic year) on campus with her fellow Zen priest Juan Velasco (Seung Sahn's lineage) and individually leads a lunch-time group that meets weekly also during the academic year and co-leads one-day sittings on campus. She also currently leads one day sittings with her fellow dharma heir, Cynthia Kear and they both anticipate leading practice periods and longer retreats. She also leads one day sittings at Santa Clara University with Juan Velasco and one retreat a year is interfaith with an emphasis on Catholic Centering Prayer and Zen.

With Darlene, Sarita co-wrote the article "Zen and the Transformation of Emotional and Physical Stress into Well-Being" which was published in Contemplative Practices in Action: Spirituality, Meditation, and Health, edited by Tom Plante and published by Greenwood Publishing in July of 2010.

Sarita is married to Clayton Moraga, a mixed-media artist, and they live in a faculty apartment in a residence hall at Santa Clara University.


---


Cynthia Kear

Background of Cynthia Kear

Cynthia Kear has been practicing Soto Zen Buddhism for over twenty years.
As a full time employee with an active family, she appreciates how demanding life can be. Everywhere practice, infusing the everyday "marketplace" of our lives with space, awareness, stability and ease, is her primary interest.

An additional core practice is in the intersection of meditation and recovery, as Cynthia has been in recovery for 26 years. She co-leads a women's meditation and recovery group at HSZC.

Cynthia founded the Wild Geese (which explores daily practice in the non-monastic world) in 2003 and leads the Upstairs Sangha.

Her article Death on a Beautiful Day was published in Buddhadharma Quarterly in Winter of 2007.
http://cynthiakear.com/default.aspx
+++
Background:
Cynthia received Jukai (lay ordination) from SFZC Abbott Paul Haller in 2004. In 2008 she was given Shuke Tokudo (priest ordination) by Darlene Cohen, her heart and root teacher, and was shuso (head student) in 2009. In December, 2010 Darlene gave her Dharma Transmission.

In 2009 Cynthia graduated from the Shokagu Zen Institute, a three year Zen seminary training program. Cynthia has taught Mindfulness and Multi-tasking at the University of Washington as part of a National Science Foundation-funded research project based upon Darlene's book: The One Who Is Not Busy. A member of San Francisco Zen Center and Russian River Zendo, she gives workshops and dharma talks throughout the bay area.

Beyond the Wild Geese and Upstairs Sanghas, Cynthia also lectures in a Buddhist sim in Second Life, a virtual world.


---


Darlene Cohen

Darlene Cohen, Tony's wife & co-teacher at RRZ passed from this world on Jan 12, 2011. She will be deeply missed by her family, friends, students & all of those many people she so profoundly & lovingly touched during her all too brief life. Gaté, Gaté, Darlene, we'll love you forever & ever.
---